Knit Golf Club Covers
34%

OFF

31%

OFF

34%

OFF

29%

OFF

29%

OFF

33%

OFF

33%

OFF

33%

OFF

33%

OFF

33%

OFF

33%

OFF

24%

OFF

36%

OFF

24%

OFF
Golf Training Accessories
Scott Edward Golf Practice Net Tent, Golf Training Aids, Hitting Cage, Indoor and Outdoor Use.with 3 Practice Balls
Scott Edward Golf Hitting Mat, Practice in Backyard/Home, Come with 3pcs Rubber Tee, Golf Training Accessories
Scott Edward Golf Practice Tees, 6 Pieces Packed, White Rubber Tee, Indoor and Outdoor,for Driving Range and Practice Mat, Golf Training Accessories
Scott Edward 2 Pack Portable Golf Ball Storage Pocket, Cleaner Pouch, with Clip Hook, Blue, Golf Training Accessories
Scott Edward Golf Smash Bag Golf Impact Bag, Power Smash, Hitting Pocket, Golf Training Aids, Practice Tool. Waterproof Durable PVC Fabric
Scott Edward Golf Practice Tees, 6 Pieces Packed, Yellow Rubber Tee, Indoor and Outdoor,for Driving Range and Practice Mat, Golf Training Accessories
Headband
9PCS Packed Multifunctional Headband Bandana- Seamless Elastic Breathable Headwear Magic Scarf for Running,Hiking,Cycling,Motorcycle, Yoga, Skiing-for Mens and Womens
4PACK Sports Headband,Non-slip Wicking Elastic Lightweight Sweat Band,Stretchy Bandana Headwear Best for Women's Yoga Athletic Hairband,Athletic Workouts,Working Out Sports-Running Cycling Travel Fitness and Hiking
4PACK Sports Headband,Non-slip Wicking Elastic Lightweight Sweat Band,Stretchy Bandana Headwear Best for Women's Yoga Athletic Hairband,Athletic Workouts,Working Out Sports-Running Cycling Travel Fitness and Hiking
Scott Edward Knit Woods Golf Headcovers Number Tag, 3pcs in packed, #1, #2, #3, #4, #5, #7, #9, #11, #UT.
Scott Edward Knit Woods Golf Headcovers, Set of 5 for Fairways #3 #5 #7 (Grey Red White Stripe)
Scott Edward Knit Woods Golf Headcovers, Set of 3 for Fairways #3 #5 #7 (Purple)
Scott Edward Knit Woods Golf Headcovers, Set of 3 for Fairways #3 #5 #7 (Pink)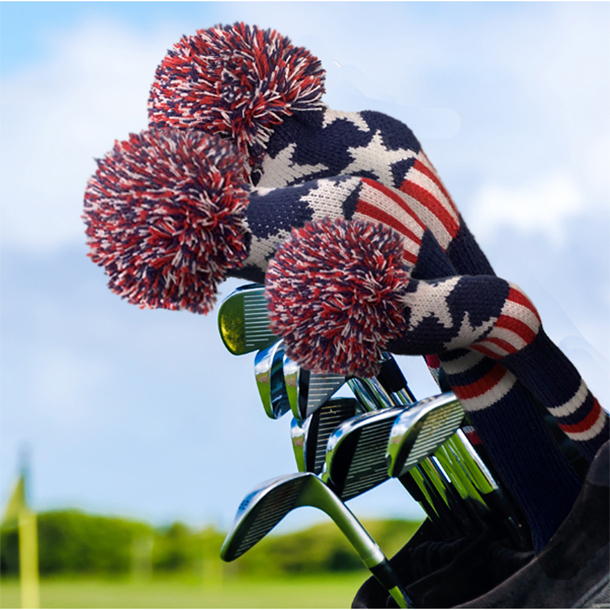 Golf Head Covers
Protect Golf Club
Knit Golf Club Covers are made by thick acrylic, by unique double-layer knitted method, make the protection functions increased double time than before. Keep your golf club from scratches, dust and the collision between golf clubs.
Decorate Golf Bags
Classical pattern with argyles, stripes, distinctive Skull, Crown, Daisy with bright and beautiful color combinations. Show your bags and clubs in extraordinary talents, attract others attention with admire.
Increase golf pleasure.
Cute fluffy big pom pom on your club, keep your playing more pleasant. Merry golf training needs such a interesting cover.
Usage Way:
1.Open package, put out the products, spread them, according to the size to distinguish driver,fairway,and hybrid.
2.Rotating the number tags into the correct number, 1 is for driver, 3/4/5 is for fairway.7/9/11 and UT is for hybrid.
3.Put the knit golf club covers from the club head to down. At the beginning, the covers would be a little tight for your club,after used 2-3 times,it would be loose than before.Please use it gently as it's soft.
Routine Attention
1.Avoid sharp objects in life,such as knife,bough,shears and so on.
2.Avoid long time exposed to the sun and rain.
3.Put them in the cool and ventilated place,avoid tear them.
4.Wash it by hand or machine,both are ok.Don't bleach or soak for long time
your cart
Your cart is currently empty.